(This is another of those massive sporkings that require multiple posts to fit in. This is the SECOND PART. PART THREE IS HERE
Before we even get started, I'd like you all to click and read the Wiki article linked if you don't recognize the word:
Naga
and
Vore
.
Everyone done that? Everyone got their O___o;; faces on? Good.
This was all
lynxgriffin
's idea. She said to me that she wanted to spork a Kingdom Hearts vorefic, I said if she really wanted to I could find one (If she REALLY REALLY WANTED TO), and...well, she did, so I did, and we did, and here we are. (Lynx now looks shamefully on this desire and regrets it from the dark sludgy depths of her internet terrorist soul). I can't...I really can't explain this Kingdom Hearts vore thing and keep what's left of my sanity intact, so all I'll say is that if the idea of vore disturbs you--DON'T READ. This fic is thirty pages of uninhibited, poorly written lurid kink fodder starring creatures masquerading as Kingdom Hearts characters. Those of you with trainwreck syndrome may now progress on to the sporking. May God have mercy on your mortal soul.
Title:
Naga Eyes
(Note! This fic is archived at ygallery, so the fic will only be viewable if you're a member and if you have your filters set to include this category of content).
Author:
wishing4mywings
Rating:

THE ANSEM IS ONLY A FORMALITY. THERE ARE NOT ENOUGH SHADOWS, BEHEMOTHS, ANSEMS, OR XEMNASES TO PROPERLY ILLUSTRATE THE LEVEL OF HORROR PRESENT IN THIS FIC.
Full Name (including any titles): A RAPED Destiny Islands cast plus Yuffie, and Naga!Riku
Full Species(es): Sora's a human, but Riku is a bloody motherfucking naga.
Hair Color (include adjectives): Canon, but purpleified.
Eye Color (include adjectives): The same, except for Kairi's eyes being purple randomly.
Unusual Markings/Colorations/Physical Features: ...Hoo. Sora is normal, but Riku is A MOTHERFUCKING GIANT SNAKE. He has claws, fins, pointy ears, a forked prehensile tongue, and a lower half thet's a "poison green" snake. He is also occasionally bioluminescent for some inexplicable reason.
Special Possessions (if any): Shuriken of +9999 Improbability
Origin: I don't even want to think about it.
Connections To Canon Characters: All of them except Riku pretend to be them. Riku...I just don't know. Supposedly he is Riku, just the snakey version thereof.
Special Abilities: Riku is extraordinarily strong (as compared to mere humans) and capable of eating said humans. Sora is multiorgasmic.
Other Annoying Traits: If I even begin listing them, I'll be here forever.
I Say/Notes: THIS IS SOME FREAKY SHIT. I cannot emphasize this enough. It will break your goddamn brain. Please exercise PRUDENCE in clicking the links. Please. For my sake. I don't mean to kink-bash but...well, this is scary stuff, no ifs, and, or buts. It's also incredibly pretentious, poorly researched, reeking of fangirlism, full of improbable sex, unbetaed and unedited, horribly OOC, and just all-around mindrapey.
ALSO: Though there are no real KH2 spoilers, a KH2-exclusive character is a member of the sporkteam. So...so heads-up.
WARNING AGAIN: This has rape, BDSM, nagas, and holy-mother-of-god vore. Minors, little old ladies, the faint of heart, and all sane people in general please to not be clicking this. You will merely have your frontal lobes abused.
When last we left them in the
first part
, they were about to run into Naga!Riku...
Sora runs into...you guessed it...Riku the naga! A very lengthy description follows of Naga!Riku and his obvious sexiness. Sora wants to leave, but...
The silver-haired beast chuckled at the nervousness his prey portrayed. "And what's your name?"
Sora: ...Prey?
Kairi: This is not good.
Sora: Why am I not fighting back, even?
Axel: *as Sora* My name's Sora and I'm a voreaholic.
Riku and Sora: *smack him hard*
MCP: AND YOUR NAME IS NOT SORA, USER.
Blinking, the brunet replied "Sora," out of natural instinct, the word slipping out before he could catch it and hold it in.
Overlooking Sora's obvious discomfort, the naga replied with, "I'm Riku."
MCP: ...ERROR. USER DOES NOT FIT SPECIFICATIONS OF RIKU. ERROR.
Riku: For once, I agree with that stupid program!
Sora: Hey, you know...maybe it's just the Repliku again.
Riku: Never helps!
"Oh... Well, that's, um, a nice name," Sora said distractedly. "So maybe I'll see you some other time, okay? I have to go..."
Sora: Don't even think about zapping me!
Riku frowned. "No you don't," he replied. "You should stay for a bit longer. Besides... I haven't gotten to talk to anyone in such a long time. I'd like the company... and from the way you were storming down the beach, I doubt you need to leave anytime soon. We could both use the company."
Gulping past the lump that had lodged itself in his throat, Sora said, "I have to get back th-though... th-they'll worry about me..."
Sora: Yes, yes they will, Kairi and real Riku and--
Axel: Snap out of it, Sora! We still have a long way to go.
Kairi: After all that stupid fuss you threw about everybody hating you for calling them boring?
Sora: If I can't run the hell away, then why can't I at least pull out a Keyblade and start beating him over the head with it?
Axel: Because this is the Land of Uke, where Sora takes it up the ass.
Sora: Shut up!
"No," Riku repeated, firmer this time. "I've never seen a human before..."
Riku: ...But they live on the same island and--
His voice trailed off into a whisper, devoid of any authority, as he reached the hand not grasping Sora's back to his face to trail a gentle finer tip over a tanned cheek.
Kairi: ...Okay, I just read that three times and I
still
have no clue what it's supposed to say.
Axel: GRAMMAR CRISIS!
Riku: Are you going to keep doing that?
Axel: At least grammar is worth attempting to save.
Then down the neck, making Sora shiver and Riku smirk, until he brought his hand up to bury his slender fingers into the brunet's soft brown hair. And then, without any hesitance or bashfulness, Riku wrapped his other arm firmly around Sora's waist and pulled him snugly against his rock hard chest, smiling. "You're so soft," he cooed, still threading his fingers through Sora's hair.
Sora: And you're so condescending!
Axel: This person has never handled snakes. They are not particularly hard--very supple, as a matter of fact.
Kairi: *curious* You have?
Axel: Yes--I have one, s'matter of fact. Huge python--
Sora and Riku: *SMACKDOWN*
Then, spotting how red Sora's face had suddenly gone, Riku frowned, cupping a soft cheek in the palm of his hand. "Hey, what's wrong? You feel warm..."
Sora just shook his head, twisting back and grappling at Riku's arms. Riku just chuckled, pulling him back whenever he got too far. "Now, now, I'm not such a cruel naga..."
Riku: Because I'm not a naga at all! AUGH!
Axel: Dayam. I'd hate to see what the cruel ones are like.
Sora whimpered, as Riku lifted his chin to tuck Sora head into the crook of his neck. Riku smelled softly of scandal wood and refreshing spring water, soothing Sora's senses slightly.
Kairi: "Scandal wood?"
Axel: HAHAHAHA this fic sure is a scandal!
But he didn't stop his desperate attempts to free himself. "Please, let me go!"
MCP: YOUR ATTEMPTS AT NEGOTIATION WILL NOT WORK ON ME, USER.
Sora: This would almost be amusing. Except for the fact that it isn't.
"Don't you want to play?" Riku laughed. He nuzzled his face into Sora's tousle of brown spikes, inhaling deeply while sighing in contentment. He lowered his face to purr soft reassurances into the nimble ear. His forked tongue flicked out briefly to lick at the maze within his ear, voicing a moan at the delicious taste it gave him.
Kairi: Wait. I thought you were a snake, not a cat.
Axel: Mmm, licking earwax. Tasty.
"Mmmh... you taste so good, Sora... I've never tasted human before. So sweet...." His tongue flicked out for another pleasurable taste, giving a longer and harder lick then before.
Riku: *makes a face* This is just getting gross now.
Axel: We've only just started.
Riku: *drowns sorrows in Sprite*
Sora whimpered pathetically in those strong, pale arms. His arms were affectively pinned and trapped behind his back by one strong hand, kept out of the way as the other continued it's soft stroking of his hair. Riku had encased Sora's entire ear in his mouth, now, suckling and nibbling at it with his blunt front teeth. His tongue prodded and explored, enjoying the taste of Sora's skin.
Sora: ...Ear...inside his mouth?
Axel: Heh. Get used to it, it gets a whole lot worse.
After a moment or two, Riku pulled away to give Sora a fond smile. "You're different then I expected," he said calmly, smirking when Sora' knees finally gave out beneath him. Laughing, Riku embraced him tightly, whispering into his ear, "So many stereotypical tales were told of you humans. But now that I've met one in person..."
Kairi: *turning green* But apparently, all the bad things I've heard about fangirl!Nagas are true.
He sighed happily, softly kissing the lobe of Sora's ear before pulling away. "But not to worry." He flashed the dazed boy a charming smile, a smile completely ruined by his next words. "I always play with my meal before eating it."
All: .................................
Axel: Hey, Sora. This postcard just came in the mail for you: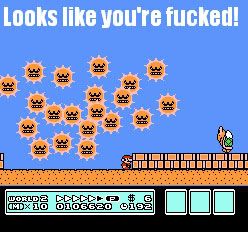 All of the breath left Sora's body for the second time that day. His blue eyes widened to an impossible size, his breath heavy and afraid. Every inch of his body shook horribly and his breath came out in a terrified squeak as he said, "W-w-what? You're g-g-going t-to eat m-me!?"
Riku: NO. NO I'M NOT!!! I'M GOING TO EAT THESE ALTINES
AND DRINK THIS SPRITE.
MCP: EXCESSIVE USE OF CAPSLOCK OF RAGE IS HEREBY RESTRICTED.
Sora: But...you're already using it yourself!
MCP: THIS IS MY NORMAL SPEAKING VOICE.
Riku raised a calm eyebrow as if Sora had said something incredibly stupid. "Of course I am," he replied. "Relax, it won't hurt a bit..."
Axel: ...Except for the part with the TEETH and the SWALLOWING and the DIGESTING and the DYING.
Kairi: I think this whole thing is saying something incredibly stupid.
There was that damn smile again, a smile completely masking his true motives. "You're nice and soft... smooth.... you should go down easily."
Kairi: *blanches* Oh, just yuck.
Sora: I am not soft!! *proudly flexes bicep*
Riku: Pfft. *flexes his own*
Sora: ...Meanie.
Riku, being sultry and whatnot the entire time, tries to reason to Sora why eating him is a good idea. This "logic" fails to reach Sora. Sora tries to get away, but Riku snags him, and then starts to strip him, making fun of him the entire time.
Sora gulped again as Riku's eyes trailed down to his shorts. Chuckling at his prey's obvious embarrassment, Riku reached up and nimbly began to pull at the shorts, frowning when they refused to budge. "You humans and your pesky 'clothes'," Riku muttered, apparently annoyed. With a sigh, he slipped his fingers into the boy's shorts, one hand on each side of the fly, thumb hooked over the outside. And then, in one mighty tug, he ripped the cloth open and yanked it down, dragging Sora's blue plaid boxers with it.
Sora: I'm being
raped
by a GIANT SNAKE.
Axel: Suddenly, Roxas doesn't look so bad.
Kairi: He can tear through denim? Dang...
Sora's face erupted into a fiery red as he squeaked in shock, desperately trying to cross his legs over his privates.
Sora: I'm squeaking again!
Why
do they always write me squeaking?!
Kairi: *sighs* Because it's cute.
Sora: If this is cute, I want to be ugly now.
The shorts and boxers dangled at his feet before Riku pulled them off, taking the wooden scandals with them.
Axel: HAHAHA the wooden "scandals" are back again!
Kairi: And why is it only the wood that's scandalous?
Axel: Okay. Kairi, stop and think about what you just said there.
Kairi: *goes red* Oh, YOU... *she tosses another Sprite can at his head*
Riku blinked before laughing. "Wow... no wonder you humans are so prone to illness. Not a scale, feather, or patch of fur to keep you warm. Honestly, how do you survive?"
Sora: ...I thought snakes were cold-blooded.
Axel: Ah, but this is a naga, which is CLEARLY flawless and superior to mere humans!
Riku: And aren't snakes--especially tropical ones--usually really delicate and sensitive to lots of environmental changes?
Kairi: Shush. Logic has no place here.
Sora glared fiercely through his deep red blush, opening his mouth and yelling, "We use clothes to keep us warm, the things you just took off!"
"Those things cannot possibly keep you warm enough," the naga snorted.
Sora: I live on a TROPICAL ISLAND.
And then...
Riku's hands were everywhere.
Axel: In Singapore!
Kairi: Under the sea!
Sora: Stuck behind the refrigerator!
Riku: Right here, nimwits. *sits on his hands*
"WAH!" Sora cried, squirming away only to swing back. Riku's hands curled into fists and kneaded into Sora's slight pudge, liking the soft feel of it, before opening his hands and skimming palms up Sora's heated flesh.
Sora: *sputters incoherently* PUDGE?!
Kairi: He was just going on about how skinny as a rail he was!
Riku: "Kneaded?" What, is Sora's body dough?
Axel: All these food analogies keep popping up...
Sora and Riku: AAAAAAAGGGGGGH!
"Everywhere on you is just so sensitive," Riku mused happily, delighted with the reactions he was getting from his plaything. "You humans really are weak."
Sora: Which is why we're at the top of the food chain,
naturally.
Axel: Voreland, remember?
Sora: Stop reminding me!
"W-we are not!" Sora stammered, and then releasing a breathy moan as Riku's hand found a small nipple and began to caress it with a nimble pointer finger, tweaking it slightly.
"Yes you are," Riku insisted. "Every inch of your body is sensitive. Your muscles are too weak to do anyone or anything of real use." Riku smirked.
Axel: Too weak to do anyone...*sknrk*
Riku and Sora: *SMACK*
Sora: *fume* Okay, this is really starting to tick me off.
Riku: I was "ticked off" before we even started.
Kairi: He admitted he knows nothing about humans! Why is he making all these conjectures?!
"We naga can actually do something with ourselves. Every part of our bodies run with muscles. Even our stomachs are inches thick."
Axel: So what do you do with all that power? You lay around all day and get off on eating whatever you randomly come across. Yeah, real productive members of society, there.
His mouth was back again, licking delicately at the now-sweaty skin of Sora's neck. Between licks, he said, "I'm surprised you haven't died out. I felt for sure you'd pass out from the simple act of making love to one another. I doubt you can even do it properly."
Riku: THIS DOES NOT COUNT AS PROPERLY!
MCP: CAPSLOCK OF RAGE ABUSE. *ZAP*
Sora: Mostly, I just want to pass out. Then I won't have to look at this anymore.
MCP: *ZAP FOR GOOD MEASURE*
Riku argues that he's going to teach Sora how to make love. Sora objects to this as well, and attempts to make a getaway...
But he had no such chance to do so, for a knee came flying up from somewhere below, striking his jaw squarely and causing him to give a yelp of surprise. In this moment, his tail jolted in surprise, sending his captive tumbling to the ground.
Sora: YES!! *pumps fist in air*
Riku: Good! Now run!!
Axel: Heh. Look, it's fast food!
Sora and Riku: *SMACK*
Sora scrambled back as soon as his backside hit the sand, feet working furiously and hands aiding his escape as he struggled back onto soft green crab grass that grew just outside of the jungle.
Kairi: Wait a second..."soft green crab grass?" That's an oxymoron.
Axel: Makes it sound like Astroturf.
He was spinning around without second thought, only goal being to get to the trees before...
But too late.
Sora and Riku: NOOOOOOOOOOOOOO
Axel: *snaps his fingers* Damn. Close one.
In a flash of green and silver, Riku struck out his tail horizontally, whipping it past the startled brunet. Sora heard a smug chuckle from close behind him as the tail wrapped possessively around him once more before Riku's human torso followed. He spun around Sora once, twice, smirk never leaving his face until Sora was wrapped in all six feet of powerful tail.
MCP: WARNING. MULTIPLE LOGIC ERRORS. LENGTH AND CIRCUMFERENCE INFERRED DO NOT COMPUTE. EXACTLY ZERO PERCENT OF MANEATING SNAKES ARE THAT SMALL OR SMALLER.
Sora gasped in pain as he felt Riku's snake tail squeeze him harder, the tip of it brushing against his inner thighs in a teasing manner before exploring his lower regions, poking and prodding.
Sora: No! Not tentacle porn! WHYYYYYY
Axel: Hey look, no way in hell could he be doing all that with just the tail.
Kairi: Snake anatomy could be elusive...but not
that
elusive!
Yup, Sora's not getting off that easily. Although he does start getting off when Riku starts getting aroused. And starts eating his hand up to the elbow.
Sora watched, eerily fascinated, as Riku took his arm up to the elbow into his hot mouth, throat stretching around Sora's appendage and covering it with thick saliva. A few moments later, when Riku was on the verge of unhinging his jaw to take in more, the silver-haired male pulled back, Sora's arm leaving his mouth with a wet pop. Sora's nose wrinkled in disgust as he looked down, his arm glistening in the sun, completely covered in the liquid warmth.
Kairi: You mean he
hasn't unhinged his jaw already
?!
MCP: LOGIC ERROR. THE USER MOUTH CANNOT CONTAIN AN ENTIRE USER ARM.
Axel: *tries to fit his own fist in his mouth, fails* This is ridiculous.
Riku was licking his way up Sora's neck now, stopping only to drag his tongue over the ear several times until a guttural moan reached his ears.
Axel: What's with the ear fetish?
Riku: An ear fetish is a thousand times preferable to this.
Feeling accomplished at that, Riku flicked his tongue out, tasting the skin of Sora's cheek. It was silky and warm, tasting as creamy as it looked.
Axel: *leans over, licks Sora's cheek*
Sora: !!!!!
Axel: Bleargh. Nope, you don't taste like anything other than normal skin.
Sora: *BEATDOWN*
He allowed himself another taste before kissing Sora's eyelids, one by one, affectively closing them. He then ran his tongue down the side of his nose, then to the cheek which he sucked on noisily, smothering the skin with sloppy kisses that left the boy squirming on his tail.
Riku gave the young boy a steady grind, rubbing their arousals together roughly, causing Sora to gasp in a mixture of pain and ecstasy. Realizing it as an order to behave and keep still, Sora quieted himself down, releasing a shaky breath as he forced himself to relax on the thick coils of tail that were constantly shifting beneath his nude body.
Riku: .....In what context is that possibly construable as an order?
Axel: In VORELAND.
More disturbing make-outage ensues. Riku goes off for a few pages on how good Sora tastes.
And the taste... oh sweet deities, the taste! Riku just wanted to drag his mouth all over Sora's sweet body, to taste every curve and crevice, to taste his insides as well as out.
Axel: Well, I can sum it up for you now: they're going to taste bloody. Not that great.
Riku: *gives Axel a weird look* How...do you...know?
Sora: He's stealing our deities! NO!
Kairi: So much for prayers...
To kiss his supple mouth over and over again, to suck on the human's tongue and absorb every ounce of flavor it withheld from Riku's greedy hunger. Riku wanted to slip his tongue into every entrance, every spot, to taste more of the boy, because just his skin was not enough.
Axel: And he will, don't worry!
Riku: *bursts into tears*
The wonderful tingling sensation it sent to his senses, the way his arousal pounded at the base of his strong tail, how every movement of Sora's reedy body sent jolts of only deities knows what into his nervous system and spine.
Kairi: Reedy body? Wouldn't--wouldn't he make bad prey then?
MCP: THE VORE PROGRAM IS NOT CURRENTLY ACCEPTING LOGICAL USER REQUESTS.
And when Sora's hands threaded into his hair and gave the tiniest of tugs, it spurred the naga to far greater heights. He pressed himself closer, lips moving faster over the tanned skin, jaw unhinging at some point to take in more of Sora' flesh. His lips stretched over Sora's stomach and his tongue thrust deeply into the belly button over and over again, going as deep as he possibly could, ignoring it when Sora began to whimper and tremble from the pain. He could. Not. Stop.
Kairi: Stop abusing the periods!
Riku: You know, that makes it sound like Sora's bellybutton is some bottomless pit.
Axel: Full of navel lint.
Sora and Riku: *GAG*
But did this scare Riku? Oh no.
Riku: It TERRIFIED THE HELL OUT OF HIM!
MCP: *ZAP*
Riku: *cough* Think if I yell loud enough, the MCP will put me out of my misery?
MCP: DELETION IS NOT AN OPTION AT THIS TIME.
Riku: Dammit.
It made his need grow for the boy he so perfectly held, who was so willingly laid out before him and pushing his name between all of his cute little noises. Just for him, only for him. Someone he didn't have to share with a single soul. He wanted to make Sora his, and part of him forever.
Axel: Vore trope the second! Are you paying attention, all you unfortunates in the audience?
Riku: No, no, no, I'M NOT LISTENING!!!!
MCP: *ZAP.*
He wanted to thrust so deeply into him that his screams cracked the sky itself. To feel the boy quivering around him, crying his name until his throat was raw and bleeding. To suck the boy down his throat just to pull him out of his stomach and do it all over again, just for the thrill of feeling Sora wiggling around deep inside of him.
Sora: *pukes into barf bag*
Riku: Kairi, please tell me you bought the Costco bulk pack of those?
Kairi: *holds up a huge package of them* I'm not stupid.
Riku: Thank you. *grabs one, pukes himself*
And that was the plan. Except, of course, for the eating thing. Because once he swallowed this toy, that was the end.
Axel: Well, duh. That's KIND of a PROBLEM with vore.
Riku: *downs Sprite* It's kind of THE problem.
Sora: Hey,
I'm
the only one that's
suffering
from that problem! *pops open his own can of Sprite*
And so Riku planned to take every advantage of it.
So lost in utter bliss and the heat of the moment, Sora did not realize where Riku's other hand was moving. It had slipped behind him and raced the small of his back before dropping to his round butt, squeezing a cheek lightly in his hand as he continued his exploration of the boy's navel, mouth trailing dangerously close to the problem Sora seemed to have developed.
But Sora did feel in when Riku slid the first part of his index finger into his tight entrance.
"There it is," Riku purred from Sora's hips, blowing a warm breath onto the boy's groin.
Axel: ...If he's never seen a human, how does he automatically know where to find the usual yaoi sexual orifice?
Sora, however, had other plans.
Sora: Plan A: Getting the hell out of this nightmare and pretending it never happened.
Riku: Plan B: Getting the hell out of this nightmare.
Kairi: Plan C: Getting the hell out.
Axel: Plan Awesome: Death by fire!
"Th-that's enough!" Sora stammered, eyes still clouded over with lust, a fact that Riku did not overlook. "I-I'm a virgin!"
Sora: That has LITTLE BEARING on what's wrong, here!
Riku merely raised a silver eyebrow in interest, finally looking up and into his prey's eyes. "Virgin?" he repeated. "Is this another one of your silly words again?"
Kairi: Because the naga are SO ENLIGHTENED and SO MUCH
BETTER THAN HUMANS.
Axel: And we're supposed to like them?
Kairi: They're just like Houyhnhnms, only...so much
worse
.
"NO!" Sora snapped. He was wriggling desperately again, but one flick of Riku's tail sent it barreling into the boy's chest and pinning him down. Never giving up the fight for freedom, Sora said, "It means... it means I've never... never..."
Kairi: You
already
gave up the fight for freedom!
Axel: Multiple times.
Sora: Not me, not me, not me, not me...
"Made love to another?" Riku finished calmly. At Sora's hesitant nod, the naga just chuckled, leaning back up to plant a soft kiss on the brunet's still-wet cheek. "Silly Sora," he purred. "What does that matter? It's very pleasurable... I know you'll enjoy it..."
"But I don't want to give my virginity away to you!" Sora cried, on the verge of hysteria.
Sora: *on the verge of hysteria*
Riku: Keep your damn virginity! I don't want it!
Axel: Besides, hasn't Kairi already got that covered?
Kairi and Sora: *smack him*
"Why not?" Riku raised an eyebrow again. "My tongue was in your mouth. Did the world end?
All: YES.
Your hands were in my hair. Did the ground beneath us burst into flames?"
Axel: *summons a ring* That can be arranged!
Sora could just gape at him soundlessly, at a complete loss for words.
"It is on no difference where I choose to move into you," Riku said calmly.
Kairi: ..."It is on no difference?"
Axel: Somebody set us up the vore!
Riku: We get badfic!
Axel: Main screen turn on!
MCP: STOP TALKING. I AM SO SICK OF THAT "JOKE".
More mind-numbing foreplay ensues. Riku fists Sora, while giving him head (no, I don't know how that works, either) and Sora comes. Yay? Riku then decides to use his own "arousal" on the other end. Sora discovers, much to both his and the audiences' horror, that Riku is frickin' huge.
And then, with a loud grunt, Riku thrust his hips forward and pushed his thick cock into Sora's body, filling the boy to the brim as an earth-shattering scream resounded across the beach.
Sora: Maybe somebody heard that! Maybe they'll get over there and save me from this travesty!
Axel: In Voreland, no one can hear you scream.
Sora: *sobs*
Tears plummeted from his lashes in death-defying waves as they seeped over his saliva-slicked cheeks and dribbled deep within his hair, sobs trembling from his lips as his teeth gritted in pain.
Axel: ....AHAHAHAHAHAHAHA!!! DEATH DEFYING WAVES! HAHAHAHAA!!
MCP: WARNING. THIS SENTENCE VIOLATES THE USER ENGLISH LANGUAGE.
His hands clenched at the crisp crab grass below him, ripping the roots from their sandy claims, as Riku wedged him open in a way he never thought possible.
Axel: Wedged him open with the Jaws of Life!
Riku: You mean Jaws of DEATH.
Kairi: ...Why is grass growing in sand?
Axel: ...Death defying! HAHAHAHAHAHAHA
The foot-long erection tore his anus, making him scream from the slightest move the naga made within him.
Axel: *laughter dies abruptly*
MCP: WARNING. WARNING. USER RECTUM, SIGMOID COLON IN DANGER OF PERFORATION FROM INSERTED OBJECTS MORE THAN TWENTY CENTIMETERS LONG. WARNING. WARNING. FATAL INTERNAL BLEEDING AND RUPTURING MAY OCCUR.
Kairi: A FOOT LONG IS ONE-SIXTH OF HIS TAIL.
MCP: CAPSLOCK OF RAGE HAS BEEN PERMITTED FOR THIS SECTION.
Riku: I TOLD YOU SO!!!
Riku's tail pressed hard against his nude backside, grinding into him and pushing him forward a bit so that more filled his tight entrance, making him scream again.
Sora: AHHHHHHHHHHHHHHHHHHHHHH *breathe*
AHHHHHHHHHHHH
Riku was completely lost in the exquisite heat of his human's body to pay attention to the cries of pain. He slowly withdrew himself and pounded back in, moans drowning Sora's yells at the naga to stop. Riku did the complete opposite, gyrating his hips down in time with the upwards grinding of his tail, squeezing Sora tightly between the two.
But this wasn't what Riku truly wanted.
Riku: THEN WHY AM I DOING IT
Axel: I would think of something amusing to say here, if I weren't disturbed beyond reason.
He wanted to drive into Sora relentlessly until blood completely coated them both, although he could already feel some dribbling onto his tail. He wanted to pump into his human faster, harder, and release so hard it would leave the boy in a daze for weeks.
Axel: Blood is not, now, and never has been, and never will be, a decent lubricant.
Riku: ...But he's not using blood for lu--
Axel: You have your delusions, let me have mine.
But he had to be patient... he wanted his pet to be conscious when he ate him, so starting off so fast would not do.
Sora: But I don't have to be! *begins banging his head against the wall*
MCP: USERS MUST BE CONSCIOUS FOR PUNISHMENT
*ZAP*
Sora: *cries* What the hell did I ever do to you...
And so, stopping the hard beating he was giving to Sora's hips and the rough strokes of his tail, Riku steadied himself into an easy motion. He gently grinded into the boy, using his tail as leverage, every now and then slipping out a few inches to slowly push back in again.
Kairi: Grinded.
Grinded
. This is elementary-level grammar, people.
Axel: GRAMMAR CRISIS!
Sora: I am beyond caring about your stupid grammar crises!
The horridly painful naga buttsecks drags on. And on. And on. AND ON. Somewhere in the middle of this mess, Riku starts to swallow Sora's head.
Riku continued on with his steady thrusts into his pray, the skin in his mouth intoxicating his senses to a point where nothing else mattered. He wanted more... more.... His jaw unhinged on it's own accord and Riku was soon sliding more of the boy's face into his mouth.
Axel: *deep breath* It starts.
Sora and Riku: NOOOOOOOOOOOOOOOOOOOOOOOOOOOOOOOOOOOOOOO
OOOOOOOOOOOOO.
MCP: SILENCE, USERS! *ZAP.*
Warm brown hair was starting to slick through his lips, bristling against his gums and the roof of his mouth. It tasted oddly like a spice, strong and delicious.
Sora: ...What.
Riku: *grumble* I hate it when there's hair in my food.
Sora: Cream? Spice?! What the hell AM I, a chocolate bunny?!
Kairi: Dandruff. Ewww.
Riku ran his forked tongue through it before taking in more of the boy's head. The pounding he relinquished with his hips was growing harder and stronger, moans coming from a mouth that was so close... too close.
And then, with a deep breath, Riku sucked the rest of Sora's head into his mouth.
Sora and Riku: AHHHHHHHHH *clutch at each other*
Kairi: "Silent Hill" has nothing on this.
Riku: ...How the hell is that fitting?
The brunet was slightly surprised to hear the loud noise of his cries cut off abruptly.
Sora: ...How the hell did I not even notice?!!
Something hot and wet was pressed against his face, blocking off any sound... as well as the ability to breath.
Kairi: Or the ability to spell.
Face-eating and rapeage continues more. Seriously, the description just all starts becoming the same after awhile.
Another inch slicked into Riku's mouth.... Sora's face was being squeezed down an arching throat...
Kairi: Wait...but...they just said saliva was dripping
down
Sora's chest...
MCP: WARNING. WARNING. NORMAL MATTER INTERACTION LAWS IN THE VORE PROGRAM HAVE BEEN SUSPENDED UNTIL FURTHER NOTICE.
Axel: I told you so.
And one final, harsh blow to the hips as Riku hit his prostate one more time, Sora used what little breath he had left in him to scream as loud as he could, orgasm shooting through him harder then before as it racked through his body, his hot seed spilling out and splashing between he and Riku.
Axel: And we get orgasm number two from...being halfway down his throat.
Sora: Permission to scream as loud as I can.
MCP: PERMISSION DENIED.
Sora: *cry*
The feeling of Sora's tight anus squeezing around him harder as the boy hit release alerted Riku as to what he was doing, and how his lips were starting to stretch over thin shoulders. With one last lick to the now-gasping boy's face, Riku let Sora's head slip back out of his mouth to land heavily on the underbelly of his tail.
Sora: *falls to his knees, gazing heavenwards* Whoever did that...THANK YOU.
The naga could see his saliva coating his pet, his hair now a messy mop atop his head and clinging to the sides of his face. He was panting harshly, hands clenching and unclenching beneath him. He looked entirely spent.
But Riku wasn't done yet.
Kairi: *holds out arms* Go for it.
Sora and Riku: *each take a shoulder, sobbing their hearts out*
Axel: Dammit, I want a shoulder.
"You humans spend out so quickly," Riku chuckled. He pulled out his still-hard dick and used his arms to tug the boy away from him before flipping the slacked body over on his tail. Sora's head flopped down as he continued to gasp for much-needed air, taking deep, gulping breaths as his heart slowly started to return to normal.
Kairi: Okay, they've both come more than once, and we got that whole eating thing out of the way. Are we done now? Please?
Axel: *flips through pages* Actually, we're just a little more than halfway.
Kairi: Y...You're kidding me.
Riku: Heart? Did Sora just almost lose his heart there?
Sora: No, that'd be merciful.
Axel: Oh no it wouldn't! You are NOT putting Roxas through that!!
We get a brief pause, and then buttsecks ensues SOME MORE. Sora reflects on how this is so much more special and loving than friends back home. It really doesn't matter where you come into it, so here's some more...
Riku began to twitch oddly inside of Sora and the hands at his tanned hips were gripping with a bruising force. Pain began to mingle in Sora once again as the naga grew more desperate, more demanding, and the pounding didn't cease even after Sora screamed and came for the third time that day, collapsing into a boneless heap onto Riku's tail as the other continued to clutch at him, swiftly attacking with lethal jabs of his hips, growling and biting down harshly on Sora's neck in his blind state of mind.
Kairi: I have an idea. Let's sing a cheerful song! This is the sentence that never ends...
Sora: Yes it goes on and on my friends...
All: Some fanbrats, sta-arted writing it not knowing what it was, and they'll continue writing it forever just beca--
MCP: STOP THAT IMMEDIATELY.
And then, Riku's tail slammed into Sora's crotch just as Riku gave his final thrust, causing Sora to cry out again from the pain of it added to how deep his lover had struck him.
All Males: OWWWWWWWWW.
MCP: STERILIZATION IMMINENT.
A full body tremor spread from Riku's dick and throughout Sora's body as hot seed splashed out deep inside of him, burning at the tight walls of Sora's bleeding anus and making the brunet groan and struggle to move away.
Axel: For some reason, I'm now seeing a really horrible fanart, with everything splashing everywhere and--
Riku: *pelts him with saltines* Don't go sharing your bad imagery!
But Riku pressed him even harder between himself and his tail, keeping the struggling human in place until his release was over. Hot beads of cum trailed from Sora's ass and down his thighs, steaming and burning his skin.
Axel: Riku's cum is on fire!
Riku: HAHAHAHAHAHAHAHAHAHA
Kairi: Why are
you
laughing?
Riku: Just that...oh hell, I think I've completely lost it.
And then, his tail giving one more shake and clench, Riku collapsed breathlessly atop his meal, exhausted and spent.
Sora whimpered as the heavy weight of Riku's body collapsed atop his back, leaving him pressing against a tail that was still quaking a bit from the after affects of the naga's orgasm. It was smoothly rubbing against the human's groin on its own accord in an almost soothing manner, tired and fulfilled. Riku's cock was softening inside of his body, still buried deeply, and it left Sora feeling awkward and immobile, as if afraid that his lover would start again.
Sora: *shudders violently* Oh god, please no.
Riku: The stuff nightmares are made of.
Sora gently rested his head on Riku's tail, which was beginning to cool off, and it felt good against his heated skin.
Riku: And now I'm cool?
Sora: Riku, buddy--to me you're always cool.
Riku: Awwww. *hugs him*
Kairi: Awww.
Axel: *rolls eyes*
A silver head of hair was tucked into the crook of his neck and his companion was breathing heavily, warm breaths washing over his back, signaling his total exhaustion. The occasional flicker of a leathery tongue lapping at his neck, sending tingles up his spine, told Sora that the naga was still awake.
Sora: So we're done now. The end, goodbye?
Axel: Nope. Still more to go. So this is like a coffee break.
Kairi: Or more like the eye of a hurricane.
Hey there? Everyone nice an' traumatized for life? Good, because it is only gonna get worse! The spectacular finale is forthcoming! PH33R!
Tegu